For couples who want an especially unique wedding or whose families don't have a home base, a destination wedding may be the perfect way to tie the knot. Whether you get married 100 miles or 10,000 miles away, getting hitched abroad is the perfect excuse to travel. More often than not, your guests will make a vacation out of it and stay a while, too.
Here are a mix of resorts, hotels, and areas across the world that host gorgeous destination weddings. Most of these venues have on-site wedding coordinators.
Calaveras County, California
This part of California has everything from rolling golf greens to rugged snow filled mountains. It's located in foothills of the Sierra Nevada Mountains and is the home of the California Gold Rush. You can have an elegant wedding at a winery or you can have an adventurous wedding at the entrance of a cave, such as Black Chasm Cavern, California Cavern, and Moaning Cavern. The area is loaded with outdoor activities for your guests.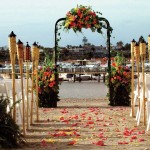 Halekulani: Waikiki Beach, Hawaii
This luxurious 453-room hotel sits on the oceanfront of Waikiki Beach. It has won numerous awards and recognition for its amenities and service. Halekulani houses three-award winning restaurants, SpaHalekulani, which is the first to fully explore the healing cultures of the Pacific Islands. The Vera Wang suite is designed by Vera Wang herself, and is the ultimate in honeymoon suites.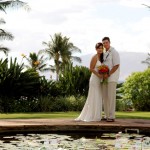 The Lanesborough: London, England
Located in London's Hyde Park, this luxury hotel is known for its resemblance of an 18th century residence. With just 95 guest rooms, 43 being suites, each room is decorated to the highest standard and includes a personal butler. As a wedding destination, The Lanesborough offers six venues ranging from small intimate rooms to others that hold up to 120 guests and display open views of Hyde Park. The Lanesborough is the home of Apsleys, which holds the record for the fastest London restaurant to be awarded a Michelin Star. They also have access to the best London videographer for weddings, so make sure you book him ahead of schedule.
Anantara Phuket Villas: Phuket, Thailand
If you are looking for a romantic atmosphere, you definitely made the right choice by selecting a hotel in Phuket. Right by the crystal clear waters of the Indian Ocean, the island is ideal to celebrate your union. This luxurious environment is affordable enough to invite your family and have them share this special moment with you. You can opt for the traditional Western wedding or have an original Thai wedding with ancient customs, such as Thai long drum processions, traditional music and dance, and the releasing of fish for good luck. You can celebrate you wedding on the tropical beach at sunset that ends with a feast of local seafood or even choose to get married on to the villa grounds while barefoot in the infinity pool.